Use Email Parsers to Capture & Organize Incoming Real Estate Leads
Imagine getting hundreds of emails from real estate directory sites inquiring about the houses sold in your area.
The thought of you getting countless inquiries from prospective home buyers is quite drooling, isn't it?
However, while the thought might seem nice on paper, seeing hundreds of unread emails in your email account isn't an enticing thought at all.
For most real estate brokers, the thought of having to dive in and open each email — and take note of the pertinent data they need to reach out to their prospective buyers — can be quite overwhelming.
Are you struggling with the same thing, right now?
Are you having to manually dive in and open bajillions of emails so that you can sort your leads?
If you answered with a "yes," and you're sick and tired of spending hours upon hours manually opening emails and copying and pasting data, then you need to try the best email parser tool online.
That's where we come in.
How To Quickly Capture Real Estate Leads?
Parserr Allows Real Estate Companies to Extract Email Lead Data
Parserr is a web-based email parser software that lets you eliminate manual data entry.
Our software gives you a visual interface of the parsing workflow to make it manageable for you even if you are new to the process.
After registering and confirming your account, Parserr will automatically launch an interactive setup process.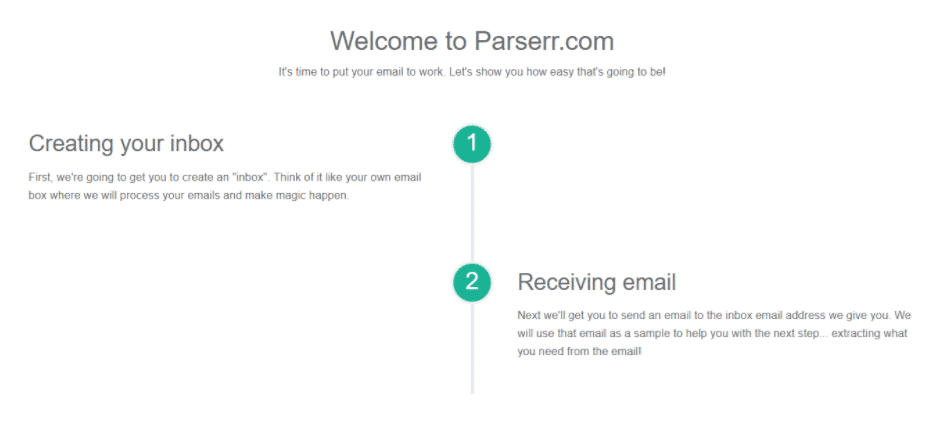 Next, Parserr will request for a test email that reflects the kind of message you need to handle. Simply use your email client to send or forward the message to the address shown on screen.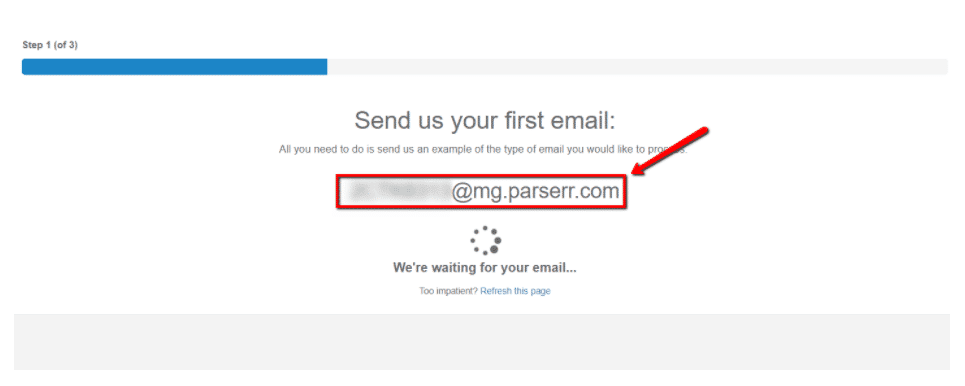 Remember to save your Parserr email address as it will be used for future emails to be parsed. A good strategy is to set an auto-forward rule on your email client with your Parserr address as the recipient.
To learn more about auto-forwarding emails, visit the following pages from your email service provider:
How To Set-up Your Email Parser?
To keep things simple, let's use this sample email.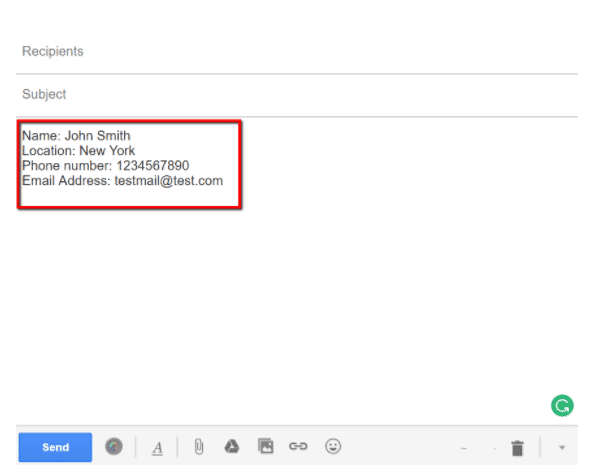 This format clearly highlights the type of data we want to process with Parserr: the name, location, phone number, and email address.
Identify What Email Data You Want To Be Extracted
Once the email has been received, you need to specify the part of the email that you want extracted.
This can be your message's body, the sender's address, CC recipients, and so on.
For most businesses, scanning the body of the message makes the most sense. That said, for this example, we will choose "Body" from the drop-down menu: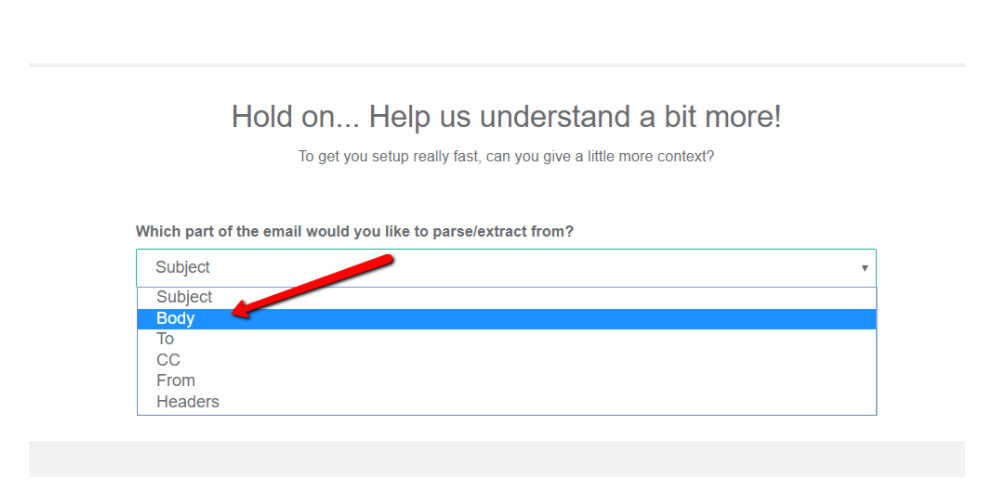 Automate Real Estate Lead Data with Zapier or Microsoft Flow
The next page asks if you use either Zapier or Microsoft Flow — both of which are automation platforms that let you operate with workflows. If you use neither, select "No, none of them" and click the "Next" button.

How to Parse Lead Information to Your Real Estate CRM?
To complete the initial setup process, you need to select what you intend to do with the data you'll extract.
You can choose whether to periodically download a spreadsheet or funnel the data into another platform.
For example, let's say you want to send your Parserr data to Zoho CRM where you can centralize your real estate lead management efforts. It allows you to plan site visitations, handle follow-ups, respond to inquiries, and sort contacts according to where they are in your sales pipeline.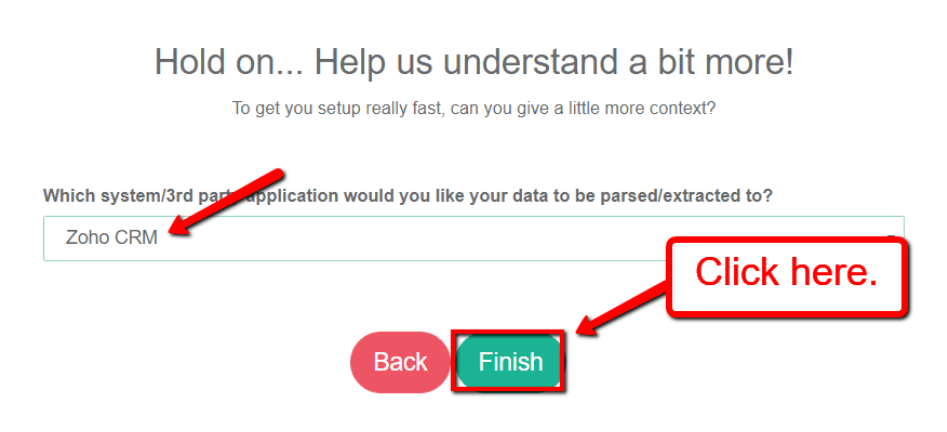 After specifying a CRM platform, Parserr will automatically generate rules based on the test email you sent earlier. Based on the example above, this is how the preset rules should look like:

Of course, you're not obliged to use the rules automatically generated by Parserr. You can freely create your own rules by clicking the "No, I can create my own" button.
Just remember that you need to use your Parserr account with Zapier in order to link your accounts to different services.
Don't worry — Parserr has a wealth of learning resources that can help you learn how to create, manage, and use Zapier integrations through the platform. For now, let's explore the nitty-gritty of using email parsers for real estate businesses:
Other Ways to Use Parsers for Real Estate
You now know how to set up your Parserr account with a CRM platform.
It's time to explore other use cases for email parsers in the real estate space.
1. Scheduling Real Estate Tours For Prospective Buyers
With an email parser, you can aggregate and manage all tour requests into one CRM or calendar platform. You just need to create a data rule that extracts the time and date of the lead's desired tour.
Additionally, you can integrate a booking platform such as BookingSync with your email parser to make tours or rentals as seamless as possible.
This will enable you to save a huge amount of time while also eliminating the risk of human error when managing your tours schedule.
An email parser also enables you to automatically share useful lead details to your team.
To do this, you need to integrate your email parser software with a communication platform like Slack or a project management app like Trello.
This ensures that the leads are always sent to the right person based on their email's context. For example, you can automatically extract your lead's phone number and then send it to your customer service team for a follow-up.
You can also extract data from invoices, which can be automatically sent to your accounting. The possibilities are endless — you just need to figure out the right combination of services and which bits of data must be parsed.
3. Acquiring Newsletter Subscribers
Finally, remember that you can always capture the sender's email address with the help of an email parser software.
You can then utilize an integration with your email marketing platform and, if applicable, segment them according to their details.
If you'd like to dominate the real estate industry, then keep in mind that you need to establish your brand as an authority. By broadcasting valuable content through newsletters, you can position yourself as a go-to expert that can be trusted for real estate investment decisions.
Conclusion
Parserr is the #1 Real Estate Lead Management Tool
Improve Lead Management for Real Estate Agents & Real Estate Brokers
Instead of spending hours having to open hundreds of emails/leads for your real estate business, with email parsers, you can now process all of these in seconds.
The best part is, the parsed data you'll receive from our software are categorized neatly to make it easier for you to reach out to your leads and convert them into paying clients.
If you need help with automating the leads you're getting through email, then set up your free Parserr account  today. If you need help, you can always refer to our helpful parsing support articles, or you can contact us anytime.