As technology continues to evolve, data analytics has become a critical aspect of any modern business. For instance, you may want to extract invaluable data such as stock prices, company contacts, product details, sports stats, you name it, from a website to inform your business decisions. To access such information, you'd need to use email parsing or web scraping techniques.
Email parsing and web scraping use machine learning and artificial intelligence (AI) to process unstructured data. The only difference is that an email parser focuses on emails while web scraping targets HTML web pages. For instance, you can parse email header content, body content, or even the incoming email's signature. In this guide, we highlight the key differences between email parsing and web scraping.
What is Email Parsing?
In a nutshell, email parsers are software solutions that enable you to extract valuable data from incoming emails to avoid time-consuming manual data entry. Whether you're using Outlook, Gmail, or other email platforms, you can configure an email parser to pull specific data fields from all incoming emails, enabling you to convert unstructured data from emails into easy-to-handle structured data.
Besides, most email parsers let you parse data fields from the email headers and email body. More sophisticated solutions can even parse information from email attachments like Word, PDF, and Excel files. Overall, email parsing enables you to extract details such as order numbers, contact details, leads, and more from emails.
How Email Parsing Can Benefit Your Business
Approximately 124 billion business emails are sent out every day, with the average office worker getting 3,600 emails per month. Therefore, your email account is an essential source of information concerning your business. It carries information about your customers, partners, orders, and prospects.
Unfortunately, email communication is not well structured. It's just plain text communication drafted by humans, making it challenging to locate and extract vital data from an email without an actual person reading it. That's where a specialized software solution such as an email parser comes in handy.
While traditional email parsers focused on structured emails with data in the same place each time, advancements in data science and artificial intelligence have made it possible to execute more complex email parsing. One exceptional use case of modern email parsing is in extracting email signatures to update CRM systems automatically.
Structured Versus Unstructured Email Data
A structured email features the exact same format each time. Typically, structured emails are generated by a machine, and the data to be parsed is always available in the same place. On the other hand, unstructured emails are those sent by humans to each other. They are typically free-form emails without a formal structure. Since unstructured emails represent the bulk of email communication, there is much more data to be mined, and modern email parsers can do that efficiently.
What Can I Use an Email Parser For?
Generally, you can use an email parser for a myriad of applications, including:
Website Leads (Structured)
If you receive leads from your website and email them to a single mailbox, you can use an email parser to capture the leads into your CRM system automatically.
Order details (Structured)
You can use an email parser to extract order details from emails and enter them into your order management system.
Email Signatures (Unstructured)
Typically, email signatures are the contact details people put at the bottom of their emails. They include a wealth of information such as phone numbers, locations, titles, etc. Since email signatures are unique to individual senders and don't appear in the same place each time, you need a smart enough email parser to locate and extract them no matter where they are on the email.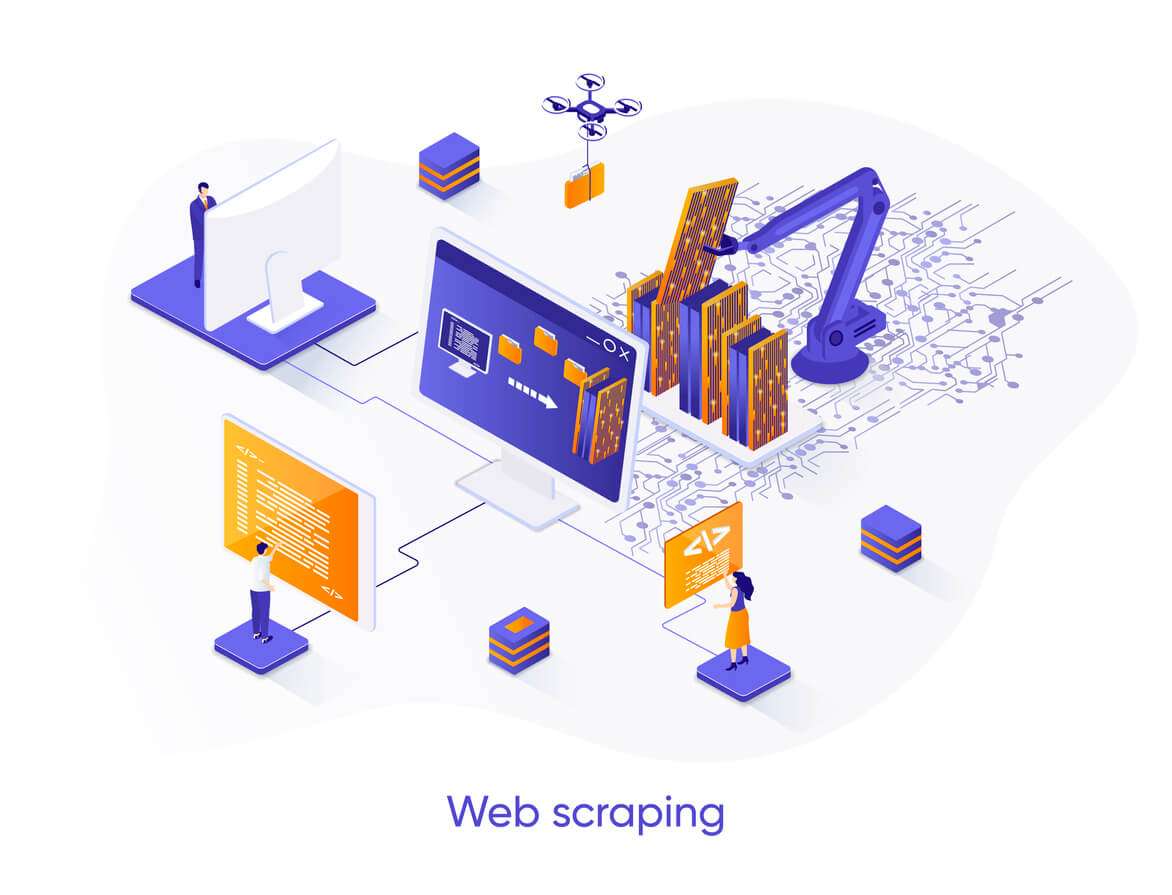 What is Web Scraping?
Web scraping or web data extraction is the process of extracting structured web data in an automated manner. Unlike screen scraping that only extracts pixels displayed on a screen, web scraping copies all underlying HTML code and stores the data in a database. Some of the everyday use cases of web scraping include news monitoring, price monitoring, price intelligence, market research, lead generation, among many others.
Besides, a web scraper can replicate entire website content somewhere else. It can also be trained to find and extract names and titles of company executives from a website for a marketing list. In general, web scraping is used by individuals and businesses looking to use the enormous amounts of publicly available web data to make smarter decisions.
Unlike the mundane, tedious process of manually copying data from a web page, web scraping employs intelligent automation to extract hundreds, millions, or billions of data points from the seemingly endless frontier of the internet.
How Web Scraping Can Benefit Your Business
Web scraping is very valuable for businesses as it gives you structured web data from any publicly accessible website. However, the true power of web scraping is manifested in its ability to create and power some of the most disruptive business applications. Many tech-savvy companies use web scraped data to streamline operations, enhance customer experience, and inform executive decisions.
What To Do With Web Scraping?
You can use web scraping for a variety of applications, including:
Price Intelligence
Price intelligence is one of the most significant use cases for web scraping. You can use web scraping to extract product and pricing information from any e-commerce website and turn it into intelligence to make better pricing or marketing decisions.
Market Research
To leapfrog your competitors, your market research should be driven by the most accurate data available. Using web scraping techniques, you can generate high quality, high volume, and insightful data of every shape to fuel your market analysis and business intelligence.
Alternative Data for Finance
Many global business leaders leverage web scraped data to unearth alpha and rapidly create high-value data explicitly tailored for investors.
Real Estate Analytics
Tech-savvy real estate firms are incorporating web scraped product data into their daily business. You can use web scraping to appraise property value, monitor vacancy rates, estimate rental yields, undertake market direction, and more.
Lead Generation
Inbound marketers can leverage web scraping to generate traffic and leads by accessing structured lead lists from websites.
Wrapping Up
Overall, web scraping and email parsing provide invaluable means to process unstructured web and email data and automate inbound lead information to your CRM? Parserr is a cloud-based software solution that allows you to capture and send email lead data directly to an Excel document, Salesforce, and more! By adopting our platform, you can eliminate unnecessary manual data entry.
We understand that the process of receiving "contact us" submissions and offline live chat correspondences and manually updating your CRM is tedious and time-consuming. That's why we developed Parserr to help you seamlessly extract valuable data such as first name, last name, email address, and other demographic data! Besides, we can help you consolidate website contact information straight into your CRM! Contact us today for a guide to email parsing and discuss our plans for various business needs.