We did it! We are now part of the Microsoft Flow and Logic Apps family, and we couldn't be more excited! This integration will open us up to be integrated with more than 135 different services. And that number is growing daily for Microsoft Flow. Parserr is the first email parser to be added to Microsoft Flow in what will be a popular application for the enterprise Microsoft community.
What is an Email Parser?
An email parser is a tool which allows you to turn incoming emails into useful data to use in various other 3rd party systems. You can use it to extract anything trapped in emails, such as website inquiries, inbound lead emails or even food orders. Once extracted, the data is then in a form ready to be transferred to multiple 3rd party systems, including Excel, Google sheets, CRM and more.
about Parserr
Parserr is a cloud-based email parser that allows you to parse an email body, email attachments, subjects, and to, CC, and BCC fields from an email. We have brought this functionality to Microsoft Flow and are delighted to be able to help you extract the data you require from your emails to use in Microsoft Flow.
It's pretty easy to get started with Parserr. Simply sign up here and answer the onboarding questions to get set up to parse. Our basic setup guide will be sent to you, but if you're stuck, feel free to send us an email.
What is Microsoft Flow?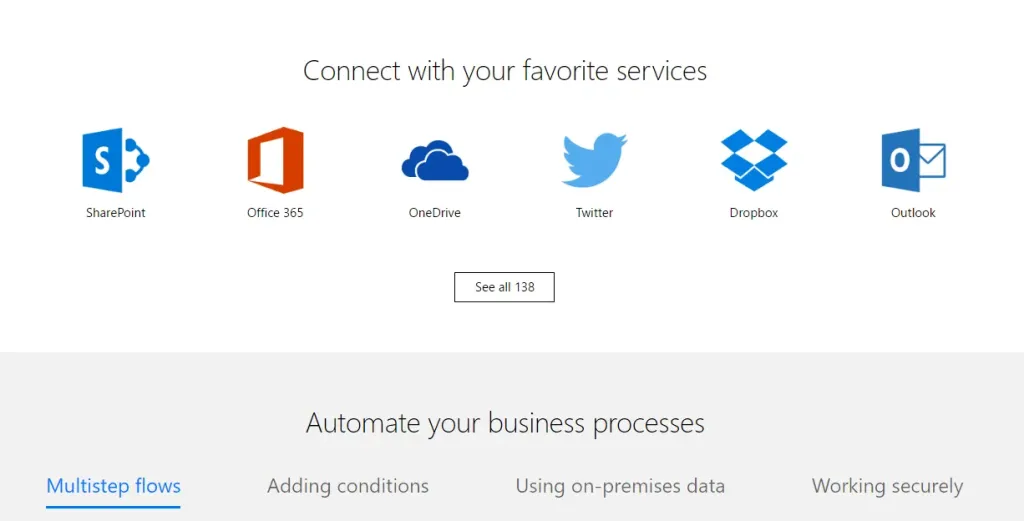 Flow is a platform that allows you to "create automated workflows between your favorite apps and services to get notifications, synchronize files, collect data, and more." Like Zapier, Flow integrates hundreds (138 at this point in time) of different applications together.
Essentially you can create a flow between any one of these applications. You can either create your own Flow or use a preconfigured template that gives you a quickstart flow between some of the more common applications. This opens up a number of opportunities for an application like Parserr. Firstly it helps us to immediately integrate into all of these applications. This is something that we already offer, but on a smaller scale with our existing integrations into Salesforce and Google Sheets.
Secondly, with Microsoft Flow, we can give Flow users a ready integration in a matter of minutes with hundreds of exciting applications in multiple different scenarios:
Extract data from your email body and use it to create a new lead in Dynamics CRM
Extract data from your email body and use it to create a new lead in Salesforce
Extract report data from Excel documents and create new records in Microsoft SQL Server
Extract specific report data from a CSV and save it as a CSV in Dropbox
Extract website inquiries from your email body and add them to a new row in an Excel file
The options are really endless.
How do I use it?
Just head on over to Microsoft flow and signup!
How much will it cost me?
Flow is actually free for 750 runs a month. A run is one execution of the Flow. A paid-for version starts at $5/user/month and allows you to execute 4500 runs per month.
How does it integrate with Parserr?
Once you're signed up, you can elect to create a new flow. Once you're on that screen, simply search for Parserr: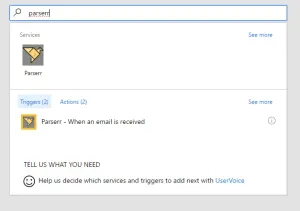 If you already have a Parserr account, simply type in your username and password, and you should see a list of all your Parserr inboxes available to you: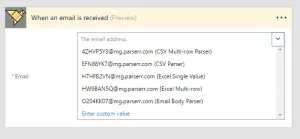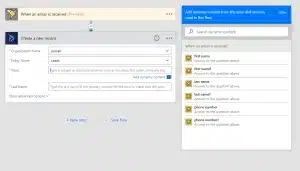 From that point, the world is your creative oyster. Simply choose to "Add an action" and choose which application you want to pass your Parserr data to. In the example below, we've chosen Dynamics CRM, and as you can see, we have all of our Parserr extracted fields (rules) available to us:
How does Flow compare to Zapier?
Flow is a direct competitor to Zapier. However, Zapier has been established since June 2012 and has therefore added a lot more integrations at this point in time. Zapier's free service allows up to 100 tasks, equivalent to a run in Flow. Flow offers 750 runs per month on their free plan.
We'd be happy to answer any other questions you have. Simply email me on "Courtenay (at) Parserr (dot) com," and we can take it from there!
How do I parse the email body and send the data to Flow?
Great question. Parserr will ask you a series of questions in the onboarding phase of signing up, such as which part of the email you would like to extract from:

When you choose to extract from the email body, Parserr is smart enough to run some of the quick setup algorithms to see if the email body is a candidate for "quick setup." Essentially quick setup will create all the rules required to extract the data you need: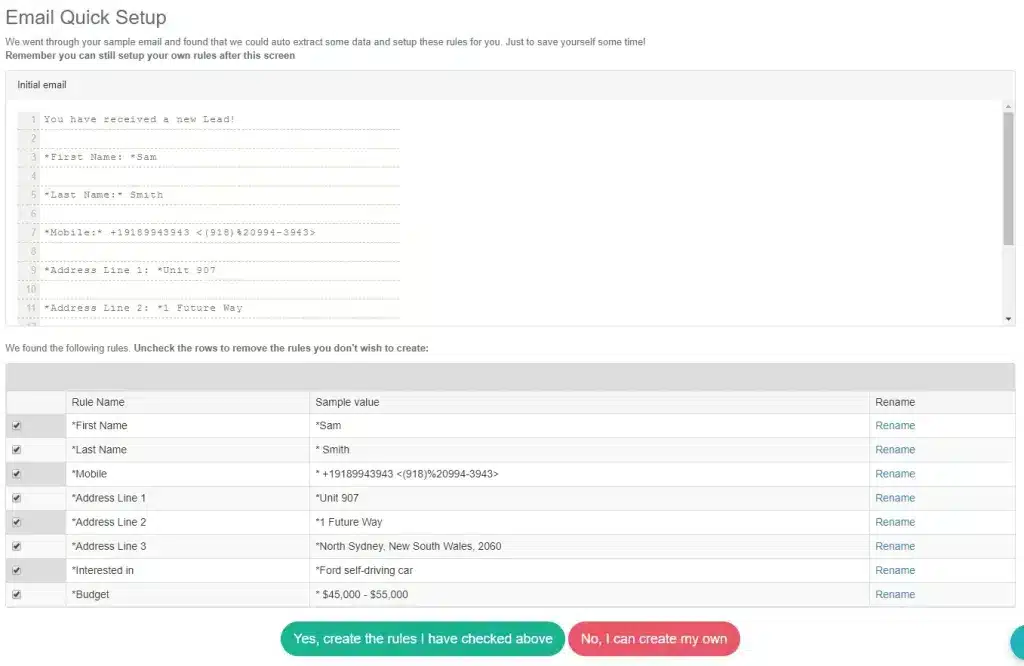 A rule is a mechanism for Parserr to extract the required piece of data. So in the above case, "Last Name" in the email always comes after the string "*Last Name." So we rely on receiving an email template from you which is similar in nature every time so that we can run the same rules and extract your data.
If in case we cannot run our quick setup algorithms, or the email is not a candidate for this, we will guide you in creating the rules with some of our setup guides and also our setup videos:
How to Parse! from Parserr on Vimeo.
Wrapping Up
Take full advantage of creating automated workflows with the Microsoft Flow and Parserr integration. Increase your team's efficiency by saving manual work and letting them focus on what truly matters: taking care of your customers and growing your company's revenue.
We can streamline your data extraction from emails by setting just a few simple rules. Contact us to discuss your workflow automation needs to improve your processes and grow your revenue.