Integrating Parserr with Google sheets is very easy, and is a great way to get your data into a spreadsheet for easy viewing. First, create both the rules for your Parserr Inbox and the google sheet that you will be sending your parsed data over to. Once those are complete, follow the easy steps below to complete the process.
If you prefer a video demonstration, you can see that here:
Steps to integrate Parserr with google sheets:
1. After setting up your inbox rules, head over to Integrations in the left menu, and select Google Sheets.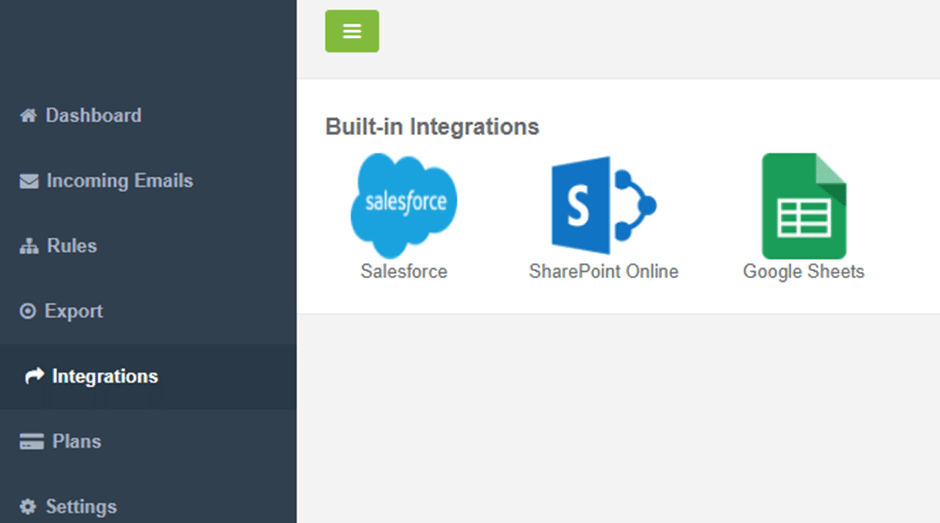 2. Sign in to google sheets with your google credentials and select the spreadsheet and worksheet of your choice from the drop-down list.
3. Click the + (plus) sign to add a new mapping from your Parserr Rules to the Columns in your google sheet, select Insert, then Save Changes.

4. Return to Incoming Emails, select the email(s) by checking the box(es) and then click on 'Rerun Integrations' and this will send over your data from Parserr to google sheets.

5. Data now residing in Google Sheets

Should you encounter any issues or require further assistance with your integration, please send us an email at support@parserr.com or chat with us using the widget at the bottom right of your screen.